Radial Shockwave Therapy in Cincinnati, OH
---
Radial Shock Wave Accelerates the Healing of Chronic Muscle Pain
Peak Performance Sports Therapy is now offering Radial Shockwave Therapy through our Curamedix OrthoPulse Ultra 100. Radial Shock Wave Therapy is a highly effective treatment for chronic muscle pain that utilizes Extracorporeal Pulse Activation Technology (EPAT) -- which is the most advanced and highly effective non-invasive treatment method cleared by the FDA.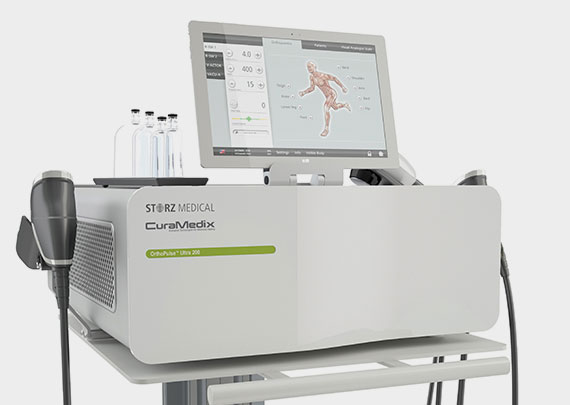 The OrthoPulse Ultra 100 has been developed as a proprietary technology by Curamedix and is based on a unique set of pressure waves that stimulate the metabolism, enhance blood circulation and accelerate the healing process -- while damaged tissue gradually regenerates and begins to heal.
Radial Shock Wave Therapy is part of the Triad of Regenerative Therapy uniquely offered by PPST including Focused Shock Wave and EMTT.
What is Radial Shockwave Therapy?
Radial Shock Wave Therapy is an FDA cleared technology proven to increase the rate of healing for soft tissue tendinopathy. It is an advanced, non-invasive and highly effective treatment method that enhances blood circulation and accelerates the healing process causing damaged tissue to gradually regenerate. Acoustic waves generated by the Shock Wave trigger biological effects which lead to faster and long-term healing and regeneration of the tissue. Shock Wave therapy (SWT) covers a wide range of indications.
Extracorporeal Pulse Activation Technology (EPAT®) is a proprietary technology based on a unique set of pressure waves that stimulate the metabolism, enhance blood circulation and accelerate the healing process. Damaged tissue gradually regenerates and eventually heals. This non-invasive office/clinic based procedure represents a breakthrough treatment option for a broad range of musculoskeletal conditions
What Kinds of Muscle Pain is EPAT Shock Wave Therapy appropriate for?
Generally, acute or chronic musculoskeletal pain and/or pain that significantly impairs mobility or quality of life including:
Foot and ankle pain
Lower extremity pain
Upper extremity pain
Back and chest pain
Shoulder pain
Neck pain
Myofascial trigger points
What are the Possible Side Effects/Complications?
The non-invasive EPAT® treatment has virtually no risks or side effects. In some cases, patients may experience some minor discomfort which may continue for a few days. This treatment can be compared to a normal work day or workout. It is normal to have some residual pain after intense exercise or a full day of work.
What Results can I expect for my Muscle Pain after experiencing Radial Shock Wave?
Clients at Peak Performance Sports Therapy often experience the beneficial effects of Extracorporeal Pulse ActivationTechnology (EPAT®) after only 3 treatments. Some patients report immediate pain relief after the treatment, although it can take up to 4 weeks for pain relief to begin. The procedure eliminates pain and restores full mobility, thus improving your quality of life. Over 80% of people treated report to be pain free and/or have significant pain reduction.
How is Radial Shock Wave performed?
Coupling gel is applied to the area of chronic muscle pain to enhance effectiveness. After these preparations, EPAT®pressure waves are released via an applicator that is suggestive of "at home" massage tools you might have experience with. The applicator is moved over the leg, neck, shoulder or foot area, where the chronic pain is being experienced, in a circular motion for 1-3 minutes. The treated individual may feel some tingling sensations in the area during the treatment.
Any discomfort is typically associated with expected apprehension when a client is experiencing EPAT for the first time–just like with any new experience–rather than discomfort of the treatment itself. But after realizing the benefits of this amazing technology, the tingling sensation becomes something the client welcomes because it indicates that healing and pain relief are soon to follow.
The Benefits of EPAT® are Many!
Non-invasive
No anesthesia
No risk of infection
No scarring
No downtime
Over 80% patient satisfaction
Faster, easier healing
The key to managing your chronic muscle pain will be treatment. There's no single treatment that works best for everyone, so don't be discouraged if one treatment doesn't work. But if you have tried other treatments and are still experiencing chronic muscle pain, the Triad of Regenerative Therapy–Radial Shock Wave, Focused Shock Wave and EMTT– might be the treatment your specific muscle pain responds to.
---
Schedule an Appointment
If you are looking for Curamedix Radial Shockwave Treatment in Cincinnati, please schedule an appointment with us through our online booking system. Our goal is to see clients for an initial visit as soon as possible, so we can get started on your treatment plan right away.