MLS Laser Therapy in Cincinnati Ohio
---
MLS M6 Laser Therapy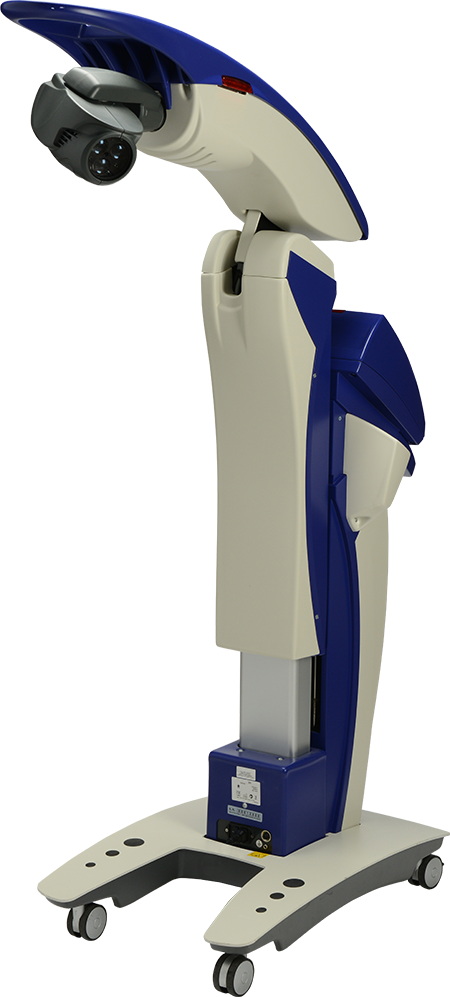 Peak Performance Sports Therapy is now offering Laser Therapy through our MLS M6 Robotic Laser. Laser therapy has been around for years and has been used in many medical applications and has recently started being used to treat joint and muscle pain and inflammation. The results of the MLS M6 Laser treatment have been outstanding because it uses photobiomodulation, light therapy, to stimulate the growth of new, healthy cells, and cause a tremendous influx of new oxygen and other nutrients to the affected area. What is Laser Therapy?
Laser therapy (LT) is used by physicians and other healthcare professionals, to treat various musculoskeletal conditions in the human body. Laser Therapy is a non-invasive light source treatment that generates a single wavelength of light, emitting no heat, sound, or vibration. Also commonly referred to as photobiology or biostimulation. Laser Therapy is believed to enhance the function of connective tissue cells, accelerate connective tissue repair, and act as an anti-inflammatory agent.
The MLS M6 Robotic Laser is the only FDA-approved Class 4 Robotic Laser that uses two different wavelengths, the 808 nanometer, which specifically reduces inflammation, and the 905 nm, which has a significant analgesic pain relieving effect, able to treat multiple musculoskeletal aches, pains, injuries and offer possible relief for various tough to remedy physical disorders, such as osteoarthritis and neuropathy.
What kinds of pain can be treated with MLS M6 Laser?
Health care professionals are using LT to successfully treat musculoskeletal issues including:
Degenerative joint disorders

Wear and tear conditions such as osteoarthritis (knees, hips, hands, shoulders, elbows), herniated discs, spondylarthrosis

Pain treatment

(Chronic) pain, for example, back pain, lumbago, tension, radiculopathy, Carpal Tunnel Syndrome, neck pain, shoulder pain, bicipital tendinitis, Impingement Syndrome, Piriformis Syndrome, Sciatica Pain, Neuropathy, Trigger Finger, and virtually any Musculoskeletal aches, pains or injuries, that need the MLS Laser Light to help heal it!

Sports injuries

(Chronic) inflammation of tendons and joints, tendon overuse syndromes, inflammation of the pubic bone, Muscular and Tendon Strains, Ligament Sprains, Plantar Fasciitis, IT Band Syndrome, Achilles Tendinitis/Tendinosis, Tennis Elbow, Golfer's Elbow and virtually any type of musculoskeletal ache, pain or injury.
Benefits of laser therapy
The main advantage of laser therapy (LT) is that it is considerably more than a brief solution. In contrast to prescriptions, it does not merely mask your symptoms for a while, and then let all that pain come flooding back once the medicine wears off. Laser treatment advances recovery, so your injured soft-tissue of muscles, tendons, ligaments, and even bones and joints can begin to recover from whatever damage has occurred. It is much closer to being a cure than any other medical approach available and when combined with Radial Shockwave, Focused Shockwave, Extracorporeal MagnetoTransduction Therapy (EMTT), and Orthobiologics, there is little doubt that a deep healing will ensue, as long as there is not a severe tear or injury that clearly requires a surgical repair.
That leads to the next benefit of laser therapy, which is it's non-invasive. Laser therapy involves no cutting, burning, or removal of body tissue or bone. The wavelength of light will penetrate the skin's outer layer and go right to the affected area to begin the healing process. A laser therapy session routinely takes less than 15 minutes and there are no after-effects.
And speaking of side effects – there just aren't any with laser therapy. Thousands of patients have undergone laser therapy for joint pain, and they have nothing to report in the way of side effects afterward. Contrast this with the side effects of taking opioids for joint pain, and you'll see what a blessing it can be to have a procedure that carries no unwanted side effects associated with it.
What Can I Expect During Treatment?
MLS Laser Therapy is a painless treatment that lasts a few minutes. Some clients have stated that they feel a comfortable warm sensation in the area being treated but the overriding response from clients is that they feel benefit either immediately after their session, although the combination of the reduction of inflammation and the increased analgesic effect, may take about 4 or 5 hours to reach full benefit.
It is recommended that for acute injuries, ideally, 6 sessions over 2 or 3 weeks would be ideal for best results, although full healing and benefit may be experienced in less time. For chronic injuries, it is recommended that the person who has been experiencing pain for months or years, 10 sessions over 3 to 5 weeks would be the ideal cumulative treatment protocol.
Imagine, reducing or eliminating the pain or discomfort that you thought you just had to live with, perhaps taking NSAIDs or other pain medication, that can wreak havoc on your health and your happiness. MLS M6 Laser, could be a key to help you break your cycle of pain and if you are an athlete, to train and perform at your optimum level of performance.
Contraindications
Laser Therapy is contraindicated for those patients who:
Have known sensitivity to the device
Take Anticoagulants
Take medication that is known to increase sensitivity to sunlight
Have seizure disorders triggered by light
Are pregnant (Use over pregnant uterus)
Suspected of carrying serious infectious disease and/or disease where it is advisable to suppress heat or fever
Have hemorrhagic diatheses- Tendency to spontaneous severe bleeding.
---
Schedule an Appointment
If you are looking for treatment options with our MLS M6 Robotic Laser Therapy, please schedule an appointment with us through our online booking system. Our goal is to see clients for an initial visit as soon as possible, so we can get started on your treatment plan right away.